ElcomSoft had a great time overseas in the US, first at Techno Security Conference in Myrtle Beach, SC and later at AMD Fusion Developer Summit in Bellevue, WA. So it happened to be quite a long visit to the US full of preparations, talks, meetings, new acquaintances, parties and positive emotions (sun and ocean did their work).
At Techno Security it seemed like we were the only newcomers (maybe partly due to this fact we were so warmly welcomed), as practically everybody knew each other (even visitors) and the whole situation resembled an alumni party in a very positive and friendly atmosphere.
We had a literally overloaded lecture-room during Andrey's talk, people were even standing along the walls. Actually, at first I was really happy with this fact. Our talk was about locating disk decryption keys in memory which was announced and printed in event agenda. It's something new for our company, but it's no breakthrough in the industry, and so we didn't expect too many people to come. However, against all my expectations, during the speech listeners were taking notes, typing something in their laptops, and looking angrily at me when I was trying to take some pictures producing though very little noise, – I gave up quite soon.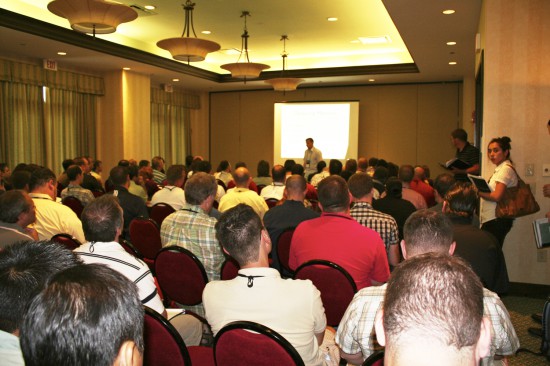 Interestingly, after Andrey's speech most visitors that came up to the booth had questions about our new iPhone toolkit or sometimes about Elcomsoft Blackberry Backup Extractor and very few had a disk decryption or key mining related questions. I suppose some of listeners were probably hoping Andrey would touch upon iPhone toolkit as well. I'm so sorry we had to choose the topic of our speech so in advance that we couldn't fix it later. But we did our best to answer all your questions and demo the software at our booth, if you still have any, feel free to ask right here!
You can find more pictures in our facebook.
UPDATE: Here is Andrey's presentation 'Faster Password Recovery with Modern GPUs' in PDF and video format.