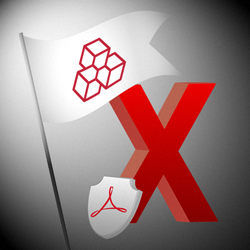 We updated Advanced PDF Password Recovery to add Acrobat X support, recovering the original password and instantly removing various access restrictions in PDF documents produced by Adobe Acrobat X.
Removing PDF Access Restrictions
Many PDF documents come with various access restrictions that disable certain features such as the ability to print documents, copy selected text or save filled forms. If a PDF file can be opened without a password, the new release can instantly unlock restricted PDF files produced by Adobe Acrobat X even if the original password is not known.
Recovering Password to Open
Passwords protecting PDF files from unauthorised viewing are tougher to break. They can't be recovered instantly. In fact, they are tough to break due to the very strong encryption used in the new Acrobat X. With strong 256-bit AES encryption, Acrobat X PDF's can be broken into with either brute force, mask, dictionary or combination attack.
The new release adds support for the new encryption type used in Adobe Acrobat X. "It wasn't all that difficult", says Dmitry Sklyarov, ElcomSoft leading crypto analytic. "The algorithm is well-known, and has been used before in many other products. It doesn't mean that the actual password recovery will be fast though. 256-bit encryption is secure enough to make brute-force attacks useless."
Advanced PDF Password Recovery relies on a combination of advanced mask and dictionary attacks to make the recovery of the new format feasible (ElcomSoft's patented GPU acceleration is also available for all Acrobat versions up to 9.x) . However, due to its much longer encryption keys, the new protection scheme makes it impossible to compute rainbow tables or Thunder Tables for instant key search.
No Instant Password Recovery This Time
To put things into perspective, older versions of Adobe Acrobat used a far less secure 40-bit protection scheme that allowed for near-instant password recovery with ElcomSoft's proprietary Thunder Tables.
Support for Mac PDF Files
PDF files produced with Mac versions of Adobe Acrobat X are certainly supported. However there's no Mac version of Advanced PDF Password Recovery at this time, so actual recovery still happens on a Windows PC.
Immediate Download
The new release of Advanced PDF Password Recovery is available for immediate download at http://www.elcomsoft.com/apdfpr.html