Despite the fact that iPhone and Android keep on biting off greater parts of smartphone market, BlackBerry fans are still there, in spite of its various peculiarities. I won't compare multi-touch displays, HD cameras, smart sensors, applications or anything like that. I'd rather talk about BlackBerry Desktop Software. Yes, it can create backups, restore information from backups, and synchronize with Outlook only, period. But that's just not enough… Let's see what you write in BB forums:
"I don't have Outlook, so I can't do it [synchronization] automatically, but I really need you guys' help."
"Unfortunately I had to wipe out the device completely after applying the latest OS update which screwed up my contacts and calendar."
"The latest verson of the software (bundle 1656) INSTANTLY caused my contacts on my BB to be wiped out and replaced with 657 blank entries."
"Is there any way I can export my address book to oulook or windows contacts or whatever so i can put them on my friends iphone?"
"How can I get my 20,000+ contacts from my Curve 8530 to a CSV or exported somewhere online? It seems like there is no way without syncing software crashing because of the time a transfer takes…"
It looks like currently the main problem with BB's usability is absence of proper synchronization. Well, to tell the truth it WAS a problem, which is now at least partly solved. With our new tool (EBBE) you can export all contacts saved in BB backup into the single CSV file, as the most universal format supported by all email clients (including web-based email services), and then do whatever you need – import these contacts into your favorite client (regardless an operating system – Windows, Mac OS, Lunix etc), merge with the contacts stored in the other smartphone, open in Excel etc. How that? Just using Elcomsoft Blackberry Backup Explorer.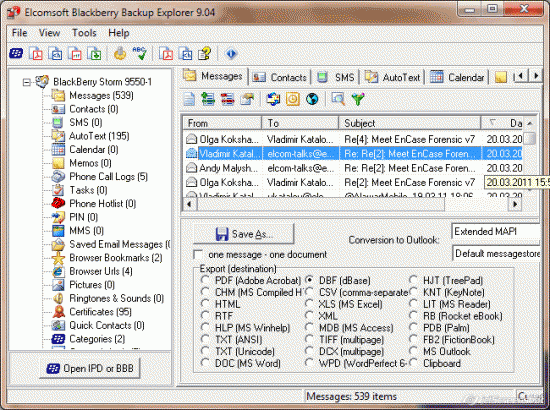 With this simple though nice and effective utility you can extract, display, print or export BlackBerry backup information. A whole array of all sorts of data can be at hand in a matter of minutes: pictures, messages, URLs, contacts, certificates, call logs, etc. – literally everything is at your disposal anytime and in any convenient format, be it PDF, HTML, DOC, RTF (which btw include a hyperlinked Table of Contents)or other preferable file formats like CHM, HLP, TXT, MDB, XLS, TIFF, DCX, VCF (vCard), VCS (vCalendar) and even more. I'm sure most of business people using BlackBerry might have encountered an urgent necessity to restore some correspondence to read it on PC/Mac, print it out, or forward to a partner, I suppose it's a frequent situation. Now, you don't have to be bound by Outlook to process your BB emails. It becomes a 3 step procedure with Elcomsoft Blackberry Backup Explorer. First, you start on the tool and open your BB backup. Second, you choose "messages" and filter them by contact (using familiar fields To and From), subject, date (see, you can sort them just as you like) and even manage their sequence. And finally – drum roll – save the correspondence in any convenient file format. That's it. In fact, Elcomsoft Blackberry Backup Explorer is a perfect tool for forensics experts to get BlackBerry backup content in a perfectly structured and readable form. As said "no more secrets, no more lies, see right through your alibis…", © Papa Roach. And even though experts may require a password to the encrypted backup, it's not a problem when you have Elcomsoft Phone Password Breaker, unless you know the password some other way 😉