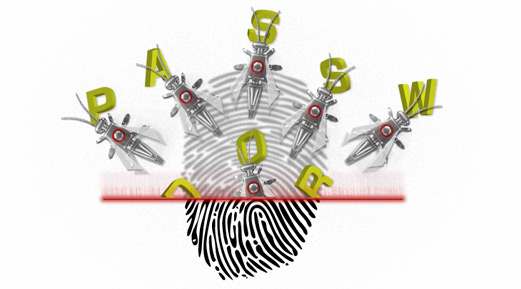 Most laptops today ship with a fingerprint reader. Most likely, you have a laptop with one. Until very recently, most major manufacturers such as Acer, ASUS, Dell, Gateway, Lenovo, MSI, NEC, Samsung, SONY, Toshiba, and many others were using fingerprint readers manufactured by a single company: UPEK.
Preface
ElcomSoft discovered a major flaw with UPEK Protector Suite, which was the software shipped with the majority of laptops equipped with UPEK fingerprint readers until the company was acquired by Authentec and switched to different software. Even today, when UPEK is acquired by Authentec which now uses TrueSuite® software, many (or most) existing laptop users will simply stay with the old flawed software, not feeling the need to upgrade.
Does Fingerprinting the User Lead to Tighter Security?
Laptops normally come loaded with pre-installed software. Among other things manufacturers install on your brand-new laptop is software communicating with UPEK readers: UPEK Protector Suite. The suite manages fingerprint reading hardware, offering users the convenience of substituting the typing of passwords with a single swipe of a finger. Ultimately, UPEK Protector Suite caches your passwords, offering near-instant login to Web sites and Windows itself.
Logging into Windows by swiping a finger instead of clicking and typing a (probably long and complex) password sounds tempting. And, it works. A simple swipe of your finger, and you're in. Wonderful; but what about security?
Here's what UPEK says on its Web site about the Windows login: "Protector Suite QL allows for secure access to Windows by swiping your finger instead of typing a password." Notice the "secure" part? Well, we found out UPEK makes Windows login anything but secure. In fact, the UPEK's implementation is nothing but a big, glowing security hole compromising (and effectively destroying) the entire security model of Windows accounts.
The Issue with UPEK Protector Suite
After analyzing a number of laptops equipped with UPEK fingerprint readers and running UPEK Protector Suite, we found that your Windows account passwords are stored in Windows registry almost in plain text, barely scrambled but not encrypted. Having physical access to a laptop running UPEK Protector Suite, we could extract passwords to all user accounts with fingerprint-enabled logon. Putting things into perspective: Windows itself never stores account passwords unless you enable "automatic login", which is discouraged by Microsoft. If you use the Windows auto-logon feature, you'll see a message saying "Using automatic logon can pose a security risk because anyone that has access to your computer will have access to your programs and personal files." Simply said, no corporate user will ever use this "automatic logon" feature, which is often banned by corporate security policies.
However, fingerprint logon is rarely, if ever, barred. The common perception is that biometric logon is just as, or maybe more secure than password-based one. While biometric logon could be implemented that way, UPEK apparently failed. Instead of using a proper technique, they preferred the easy route: UPEK Protector Suite simply stores the original password to Windows account, making it possible for an intruder to obtain one.
Storing Windows account passwords in plain text is bad practice. It defeats the entire purpose of enhanced security. In fact, with current implementation, we cannot speak of any security as the entire PC becomes extremely easy to exploit to anyone aware of this vulnerability. This time around, UPEK made it completely wrong, introducing a paper link to a stainless steel chain.
If Your Windows Logon Password Is Compromised
What happens if someone gets to know your Windows account password? First, they obviously gain access to all your files and documents. Of course, if they had your laptop and its hard drive at their disposal, they could to that anyway – with one exception: they would not be able to read EFS-encrypted files (those that have the "Encrypt contents to secure data" checkbox ticked in the file properties – Attributes – Advanced). EFS encryption is extremely strong and impossible to break without knowing the original Windows account password.
And here comes UPEK Protector Suite. Conveniently storing your plain-text account password, the suite gives the intruder the ability to access your used-to-be-protected EFS encrypted files. Bummer.
The Scope of the Issue
The scope of this issue is extremely broad. It is not limited to a certain laptop model or manufacturer. All laptops equipped with UPEK fingerprint readers and running UPEK Protector Suite are susceptible. If you ever registered your fingerprints with UPEK Protector Suite for accelerated Windows logon and typed your account password there, you are at risk.
Course of Action
If you care about security of your Windows account, launch UPEK Protector Suite and disable the Windows logon feature. That should clear the stored password for your account. Note that you should clear all stored account passwords to protect all user accounts.
What We Did
ElcomSoft will not disclose full detail in the interests of public responsibility. We notified former UPEK about the issue (but sure enough they know about it). We also prepared a demo application, which displays partial login credentials of users who enabled fingerprint login. We won't give it away to general public; only a limited number of hi-tech journalists will receive this software.