It's been two weeks since Steve Jobs has announced release of new iPhone 4 and iOS 4 operating system during his keynote on WWDC'2010. New iPhone will begin shipping on Thursday, 24th of June, and new iOS will become available for download today, just few hours are left.
iOS 4 comes packed with a lot of nice features (long-awaited multitasking, background location services, iBooks and much improved Mail app  just to name a few) and we are very pleased to announce today the release of the new version of Elcomsoft iPhone Password Breaker with support for iTunes 9.2 and iOS 4.
Elcomsoft iPhone Password Breaker (or EPPB for short) is a utility to recover passwords for encrypted and password-protected iPhone/iPod/iPad backups created with iTunes (please note that it's not meant to recover or remove passcode lock on the device).
With iOS 4 Apple has completely changed the way backups are encrypted and stored. Backup and restore processes are way much faster now. Apple have also improved protection against password recovery attacks, thus making our job harder (password recovery is about 5x slower for new backups than for older ones).
We at Elcomsoft try our best to keep up with the times, so most of our tools & programs are adjusted to the latest technologically advanced features. The EPPB is not an exception, new version of EPPB fully supports both old and new backup formats. It also supports hardware acceleration using NVIDIA and ATI GPUs and Tableau TACC1441.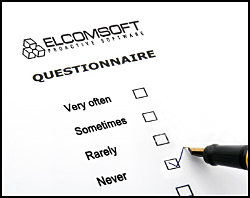 Hello! Yet again, we have launched a survey on password usage behavior.
As our previous survey went like a breeze (you will find the report in our archives), it is a logical next step that we decide to try one more time. From the very first survey we gained curious info, which was also interesting to publicity. Naturally questions about password protection are numerous and some of them remain dark, possibly a little too much so, that is why we are tempted to undertake one more "investigation".
This time we expanded on questions and made some of them hypothetical, where you are put into a situation to find a way out. It is interesting to trace your way of thinking on both hypothetical and actual matters, so other questions are suggested to understand your attitude to real everyday situations you have to deal with.
As usually, survey completion will be finalized by a report.
We tried not to inundate our questionnaire with baffling questions, but if you still consider it time-consuming, you are welcome to answer one absurdly simple question on home page of ElcomSoft website.
C'mon you are within an ace of getting 10% discount for all our software; just find a little will-power to put a couple of ticks. Again, thank you for taking time from your busy day and completing our questionnaire. And feel free to channel this survey to your friends and colleagues.
Best of luck!