This fall has been quite rich in IT security events for ElcomSoft. We managed to visit a number of conferences and trade shows in order to, as we say in Russia, see the others and be seen 🙂
it-sa in Nuremberg welcomed us with a few warm sunny days and a lot of IT-security experts at the event. Being a regular exhibitor at the trade show we were happy to yet again satisfy visitor's curiosity about our products and represent our recent achievements in password recovery at our booth and technical forum.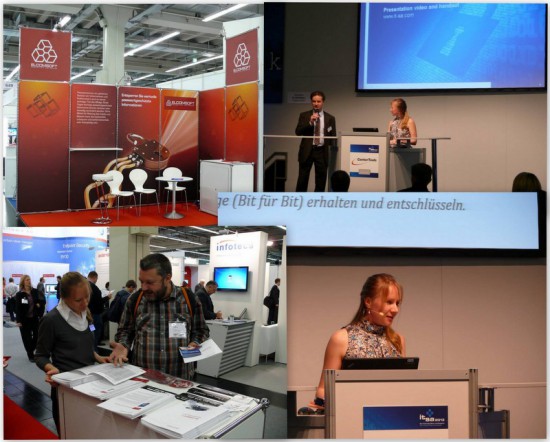 Hack In The Box in Malaysia was a new event to us, as we've never been there before, but the first impression was nonetheless very positive. Vladimir Katalov pointed out super interesting talks and excellent organization of the event and also expressed his strong will to come to the event once again, next time in Amsterdam. Vlad's talk titled "Cracking and Analyzing Apple's iCloud Protocols" had genuine interest of both security professionals and media representatives. Violet Blue from ZDNet covered our talk in her glittering article "Apple's iCloud cracked: Lack of two-factor authentication allows remote data download".
The e-Crime's e-Discovery and e-Investigations Forum in London went as always very smoothly with "well over 400 senior end users from the Private Sector" as noted by the organizers "creating easily the largest gathering of senior infosec and risk executives in the UK.  The conference was full to capacity."
Ruxcon in Melbourne extended a warm welcome to us not only by wonderful weather but also by undivided attention to Vladimir Katalov's presentation on modern smartphone forensics, as the room was totally packed, to which SC Magazine has its own evidence.  Slides of the talk can be found at the conference page http://ruxcon.org.au/slides/
More events are to follow, so please have a look at our calendar of events at http://www.elcomsoft.com/events.html and come along with us!