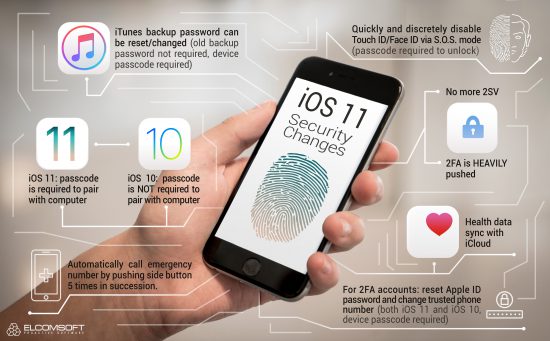 iOS 11 introduced multiple changes to its security model. Some of these changes are highly welcome, while we aren't exactly fond of some others. In this quick reference guide, we tried to summarize all the changes introduced by iOS 11 in the security department.
Compared to iOS 10 and earlier versions of the system, iOS 11 introduced the following security changes:
–  Reset password to local backups (passcode required), which makes logical acquisition trivial
–  For 2FA accounts, reset Apple ID password and change trusted phone number with just device passcode (possible for both iOS 11 and iOS 10)
–  Health data sync with iCloud (users can disable)
+  Passcode required to establish trust relationship with a PC (Touch ID/Face ID can no longer be used to pair)
+  Quickly and discretely disable Touch ID/Face ID via S.O.S. mode
+  Automatically call emergency number (push side button 5 times in rapid succession)
+  iOS 11 strongly suggests enabling Two-Factor Authentication in multiple places
+  Two-Step Verification (2SV) is no longer available
Additionally, in macOS High Sierra, Desktop and Documents folders now sync with iCloud (user can disable).