So we are back again from EuroForensics Conference which took place in Istanbul a week ago, and it feels everything went fantastic. All preparations were quick and painless (our special regards to Kaukab Jamal ZUBERI, Bilal YILMAZ, Meryem Parlak, Canan Tas and the whole team of Forensic People), the event went smoothly with a marked emphasis on the first day, when we were almost stunned by crowds of computer forensic specialists, military people in uniform, government and other security researchers (I personally have never seen so many officials at one place before).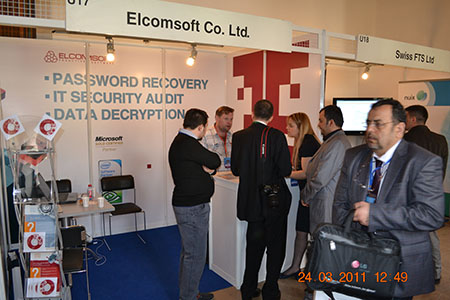 If you added this blog to your news feeder, then you prefer getting skilled rather than getting owned – as in Troopers' motto.
Troopers09 is an international IT-Security Conference held in Munich, Germany. This event is created for CISOs, ISOs, IT-Auditors, IT-Sec-Admins, IT-Sec Consultants and everyone who is involved with IT-Security on a professional basis. The goal is to share in-depth knowledge about the aspects of attacking and defending information technology infrastructure and applications. The featured presentations and demonstrations represent the latest discoveries and developments of the global hacking scene and will provide the audience with valuable practical know-how.
Andrey Belenko ( ElcomSoft's Lead IT Security Analyst) will enjoy the conference and give a talk tomorrow (on 23rd April 2009) at 16:00 – 16:45, here is an abstract of his speech: http://troopers09.org/content/e3/e282/index_eng.html