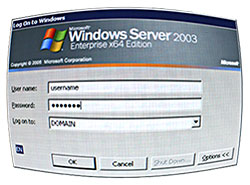 Ever heard of password masking problem? To be honest, I have not – until I've read the Stop Password Masking article by Jakob Nielsen (somewhere referred to as "usability guru"), followed by a lot of other publications, blog posts and comments (see 'em all); so-called security guru Bruce Schneier wrote even two essays on that.
Well, that reminded me of a very funny stupid CAPSoff Campaign…
In brief, here is the "problem": for years (I think starting from Windows 3.0 released almost 20 years ago), the passwords are being masked as you type them (in most programs what have any kind of password protection, and an operating system itself), i.e. replaced with asterisks or black circles. What for? To prevent the password from being read by someone who stands behind you.