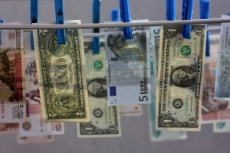 Back from summer holidays? Suntanned, full of energy, had a good time? And worried about your bank account balance? Don't strain your nerves unnecessarily, rather keep your business flourishing. We say that your money will return like a homing pigeon back to you! Keep your windows wide open
ElcomSoft prepared yet another pleasant and valuable surprise for you – money certificates up to $100 that you can spend in on-line shops (viz. Amazon and iTunes) on anything you want: music, books, video, software – anything!!
Lightning never strikes in the same place, so, drop everything and buy now, because you'll get back your money.
ATTN: This offer is not for long! So, stay tuned and keep your ears cocked for our news and other special offers.
Please learn terms and conditions to get your Amazon and iTunes gift certificate.
Looking for new password cracking hardware (to take advantage of GPU acceleration)? Wait just a little bit more: new ATI and NVIDIA cards (with DirectX 11) will be available soon.
ATI is going to release Radeon HD 5000 cards (5850, 5870, 5870 X2) in October — well, hopefully. The top one (HD 5870X2: single-PCB, dual-GPU) will retail for $599.
As for NVIDIA's new GT300, the specifications were revealed in April. In brief, it groups processing cores in sets of 32 (up from 24 in GT200) — up to 512 cores total for the high-end part. If the clocks remain the same as on GT200, that will double the overall performance. And there are other improvements as well: e.g. GT300 cores rely on MIMD-similar functions. Some fresh information about GT300 availability:
You may ask — what about Intel? Well, new Core i5 and i7 (codename Lynnfield) now available. Nothing revolutionary new, just Intel P55 Express Chipset support: integrating both a 16-lane PCI Express 2 graphics port and two-channel memory controller on a single chip (previous chipsets required separate northbridge and southbridge), as well as several minor improvements. More information and some benchmarks at Intel Lynnfield; Core i5 750 and Core i7 870 Evaluation and New Intel Core i5, i7 Processors Product Matrix.
And still [almost] noting about Intel Larrabee, mostly just rumors:
Finally, funny article: NVIDIA to Intel: Your Days Are Numbered 🙂