As we already know, Apple syncs many types of data across devices that share the same Apple ID. Calls logs, contacts, Safari tabs and browsing history, favorites and notes can be synced. The syncing mechanism supposedly synchronizes newly created, edited and deleted items. These synchronizations work near instantly with little or no delay.
Apple is also known for keeping some items that users want to be deleted. As a reminder, this is a brief history of our findings:
Today (May 2017): deleted Notes are also stored in iCloud
What's It All About?
Apple has a great note taking app that comes pre-installed on phones, tablets and computers. The Notes app offers the ability to take notes and sync them with the cloud to other devices using the same Apple ID. We discovered that Apple apparently retains in the cloud copies of the users' notes that were deleted by the user. Granted, deleted notes can be accessed on iCloud.com for some 30 days through the "Recently Deleted" folder; this is not it. We discovered that deleted notes are actually left in the cloud way past the 30-day period, even if they no longer appear in the "Recently Deleted" folder.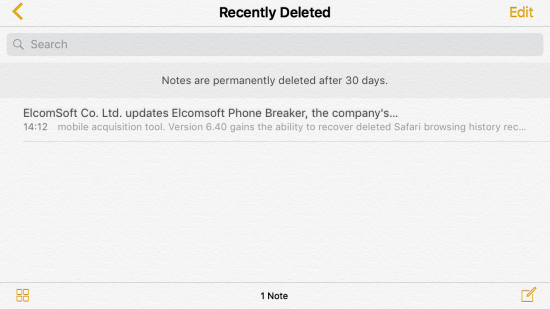 For accessing those notes, we updated Elcomsoft Phone Breaker to version 6.50. (more…)