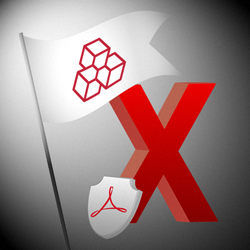 We updated Advanced PDF Password Recovery to add Acrobat X support, recovering the original password and instantly removing various access restrictions in PDF documents produced by Adobe Acrobat X.
Removing PDF Access Restrictions
Many PDF documents come with various access restrictions that disable certain features such as the ability to print documents, copy selected text or save filled forms. If a PDF file can be opened without a password, the new release can instantly unlock restricted PDF files produced by Adobe Acrobat X even if the original password is not known.
Few days ago we have updated our iOS Forensic Toolkit to version 1.15 which includes some bugfixes and improvements and, most notably, supports passcode recovery on the new iPad (also known as iPad 3). There are no significant changes from the practical point of view (i.e. the process of passcode recovery is still exactly the same), but there is something new under the hood. So if you're interested in iOS security and how stuff works, please read on.