According to Jim Baker, FBI General Counsel, the bureau can access information on most smartphones they are dealing with, even if encryption is enabled. In this article, we tried to find out which devices they can and cannot unlock, and why.
The FBI Can Unlock 87% Mobile Devices
According to Jim Baker, the agency can unlock some 87% of mobile devices, and get access to the data. So which devices they can and cannot unlock, exactly? Before we start crunching the numbers, please have a look at the following infographics: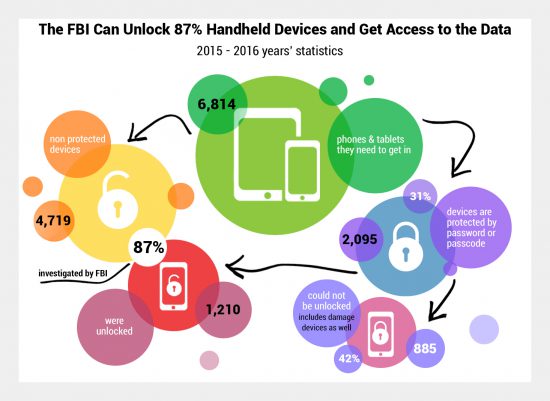 On Tuesday, a federal judge ordered Apple to assist the authorities in breaking into a locked iPhone 5C used by Syed Farook, who killed 14 in San Bernardino in December. According to the FBI, the phone might contain critical information about connections with Islamic terrorist groups. Apple opposed the motion and published an open letter at https://www.apple.com/customer-letter/ saying that "The United States government has demanded that Apple take an unprecedented step which threatens the security of our customers. We oppose this order, which has implications far beyond the legal case at hand."
So what is the government asking, does Apple have it, and is it technically possible to achieve what they are asking? Let's try to find out.