On February 28, 2018, Apple has officially moved its Chinese iCloud operations and encryption keys to China. The reaction to this move from the media was overwhelmingly negative. The Verge, The Guardian, Reuters, Wired, and CNN among other Western media outlets expressed their concerns about the Chinese government potentially violating the human rights of its citizens. Politics aside, we will review Apple policies governing the Chinese accounts, and look into the technical implementation of Chinese iCloud operations. Let us see if the fears are substantiated.
The Fear of China
Even if the change only affects iCloud accounts registered in mainland China, there is no lack of publications bashing apple for complying with Chinese laws. Below are just a few stories from the top of the news feed.
Journalists express their concerns regarding the potential violation of Chinese users human rights. "In the past, if Chinese authorities wanted to access [Chinese] Apple's user data, they had to go through an international legal process and comply with U.S. laws on user rights, according to Ronald Deibert, director of the University of Toronto's Citizen Lab, which studies the intersection of digital policy and human rights. "They will no longer have to do so if iCloud and cryptographic keys are located in China's jurisdiction," he told CNNMoney." [CNN]
We were attending the DFRWS EU forum in beautiful Florence, and held a workshop on iOS forensics. During the workshop, an attendee tweeted a photo of the first slide of our workshop, and the first response was from… one of our competitors. He said "Looking forward to the "Accessing a locked device" slide". You can follow our conversation on Twitter, it is worth reading.
No, we cannot break the iPhone passcode. Still, sometimes we can get the data out of a locked device. The most important point is: we never keep our methods secret. We always provide full disclosure about what we do, how our software works, what the limitations are, and what exactly you can expect if you use this and that tool. Speaking of Apple iCloud, we even reveal technical information about Apple's network and authentication protocols, data storage formats and encryption. If we cannot do something, we steer our customers to other companies (including competitors) who could help. Such companies include Oxygen Forensics (the provider of one of the best mobile forensic products) and Passware (the developer of excellent password cracking tools and our direct competitor).
Let's start with "Logical acquisition". We posted about it more than once, but it never hurts to go over it again. By "Logical acquisition", vendors usually mean nothing more than making an iTunes-style backup of the phone, full stop.
Then, there is that "advanced logical" advertised by some forensic companies. There's that "method 2" acquisition technique and things with similarly cryptic names. What is that all about?
I am not the one to tell you how other software works (not because I don't know, but because I don't feel it would be ethical), but I'll share information on how we do it with our software: the methods we use, the limitations, and the expected outcome.
After testing waters for more than a year, Google has finally pulled the plug and began blocking access to Google Play services on uncertified devices. Why Google took this step, who is affected, and what it means for the end users? Let's try to find out.
Google Play Services Certification
In March 2017, Google rolled out a Google Play Services update that had a very minor addition. At the very bottom of its settings page, the Services would now display device certification status.
This is how it looks on an uncertified device: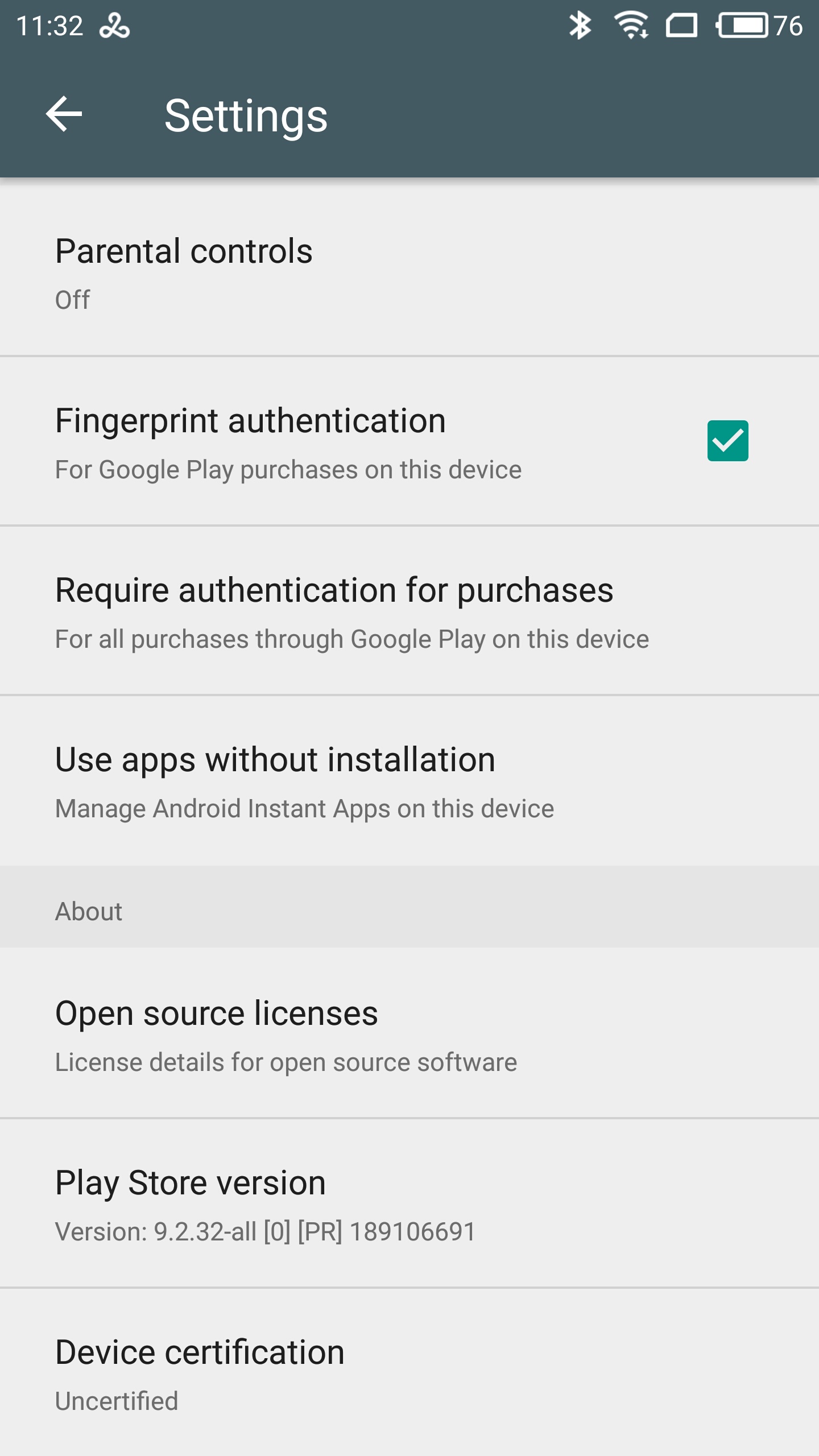 What is this all about?