How to break 'strong' passwords? Is there a methodology, a step by step approach? What shall you start from if your time is limited but you desperately need to decrypt critical evidence? We want to share some tips with you, this time about the passwords saved in the Web browsers on most popular platforms.
Breaking passwords becomes harder every day. Vendors are making their apps increasingly tough to break by hardening password protection. They are doing their best to slow down the attacks, often going as far as implementing special tricks targeting GPU attacks specifically, making password attacks run at terribly low speeds. What are your options then? Stored passwords and passwords re-use are often the key. Get the low-handing fruits first by collecting the user's passwords that are saved in their Web browser.
Windows
Google Chrome? We've got you covered. Microsoft Edge (or old-school Internet Explorer)? No problem as well. Mozilla Firefox and Opera? We support them too, as well as several popular Chinese browsers (Tencent QQ Browser, UCWeb UC Browser, Qihoo 360 Safe Browser) and even Tor. All these browsers have the ability to save passwords once they are entered on a Web sites, and we know how to extract and decrypt them. You'll need an authenticated session to extract most of these passwords from the user's Windows account. Elcomsoft Internet Password Breaker can also collect POP3/IMAP/SMTP/NNTP passwords, as well as the passwords saved in Microsoft Outlook, Outlook Express, Windows Mail and Windows Live Mail, and Thunderbird.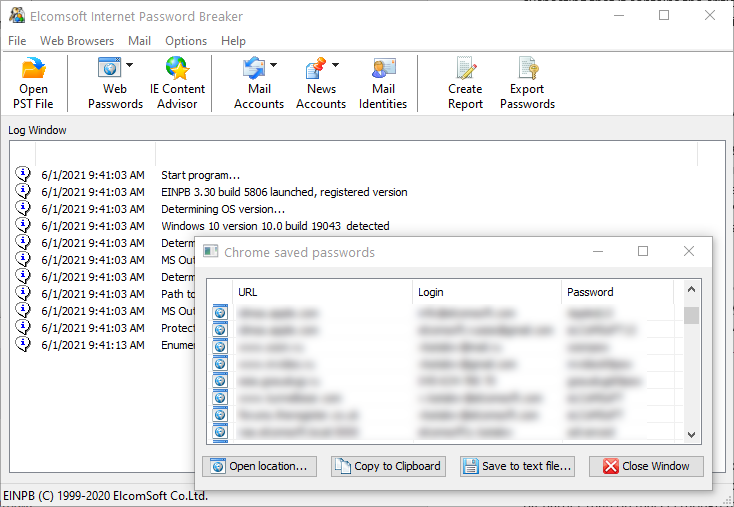 macOS
In macOS, the passwords are stored in the user's keychain. To extract them, you will need the keychain database itself (and so physical access to the computer with root privileges), as well as the user's password. That's it, the passwords will be extracted and decrypted in seconds, just use Elcomsoft Password Digger (and read Digging Mac OS Keychains to get some insides).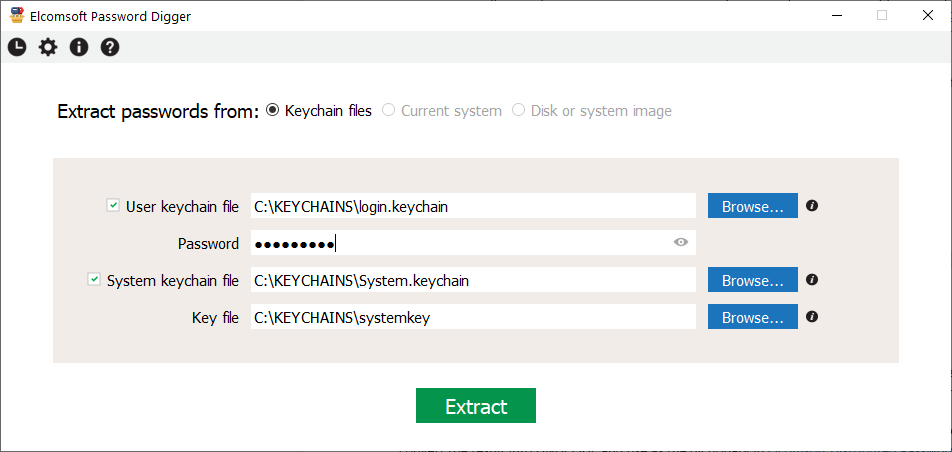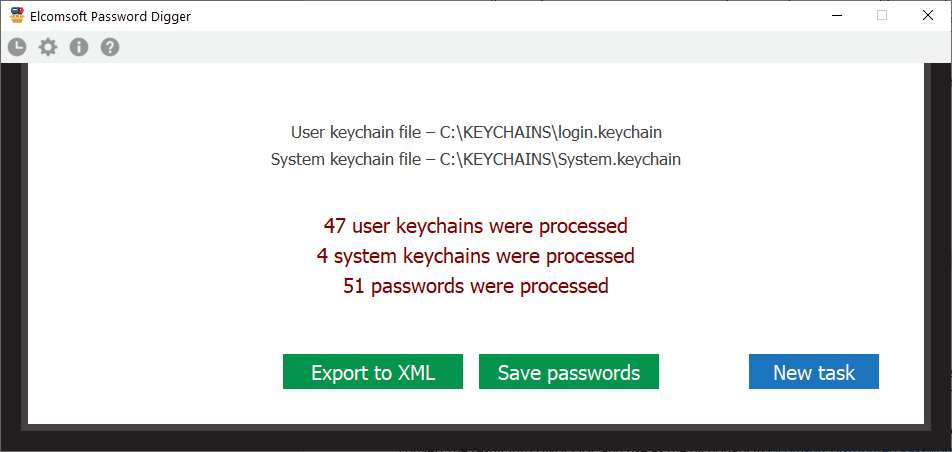 iOS/iPadOS
On Apple mobile devices, the passwords along with other sensitive data such as credit card numbers, encryption keys, certificates etc. are saved in the keychain, pretty similar to macOS. The extraction may be more difficult compared to macOS. The easiest way to access stored passwords is to create a password-protected device backup with iTunes (Windows), Finder (Mac), or any forensic software that supports logical acquisition, then using Elcomsoft Phone Breaker or Elcomsoft Phone Viewer to decrypt the keychain and view the passwords (either tool will work).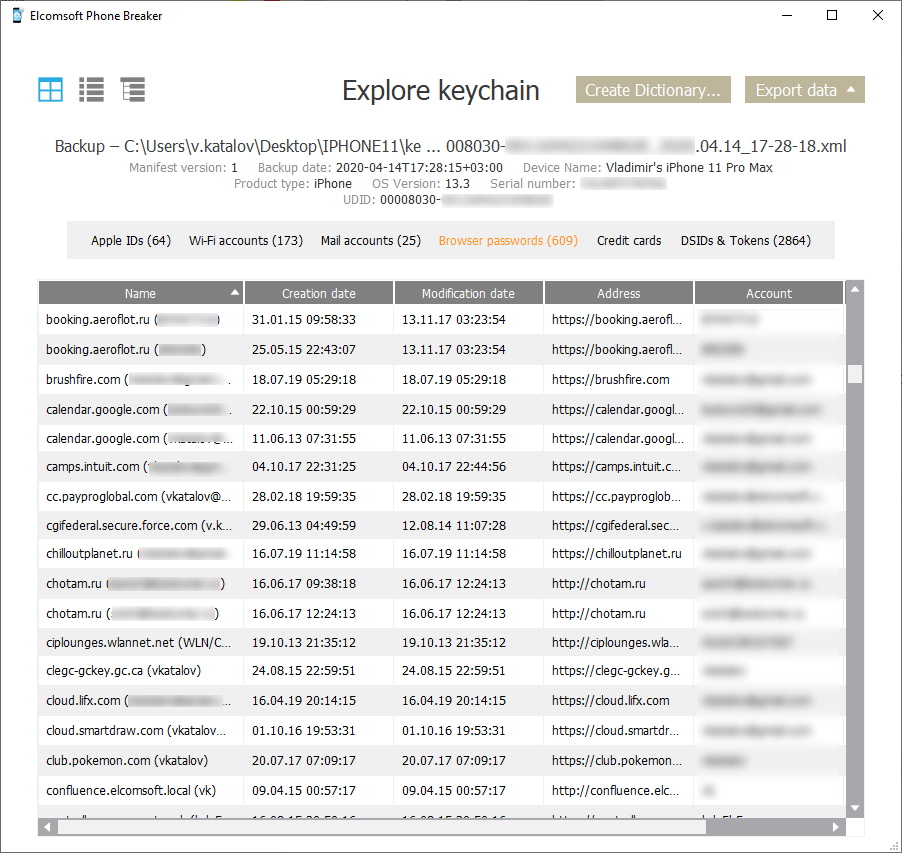 Clouds
Cloud accounts are another excellent source of passwords. Four years ago, we discovered a way to extract cloud keychain from Apple iCloud (see Acquiring Apple's iCloud Keychain). While this method has some limitations (you need authentication credentials and the user's screen lock passcode), it is really worth it: iCloud saves tons of passwords, and most of Apple users (especially those with more than one Apple device) have it enabled. Use Elcomsoft Phone Breaker to download iCloud keychain as well as many other "end-to-end encrypted" data categories.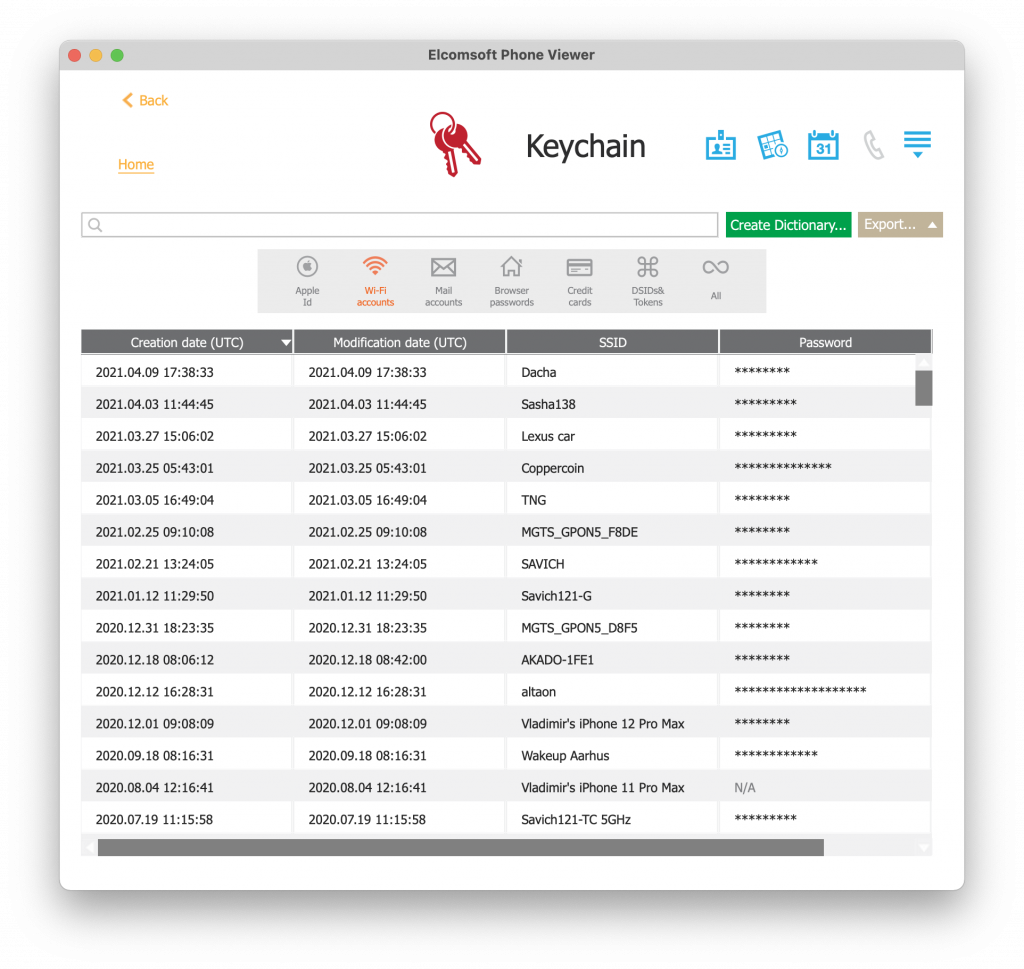 Google Chrome, the most popular browser in Windows and Android devices, also saves passwords in the cloud, specifically into the user's Google Account. The passwords don't have any special protection and can be easily extracted with Elcomsoft Cloud eXplorer (of course, you'll authentication credentials to sign in to the user's Google Account).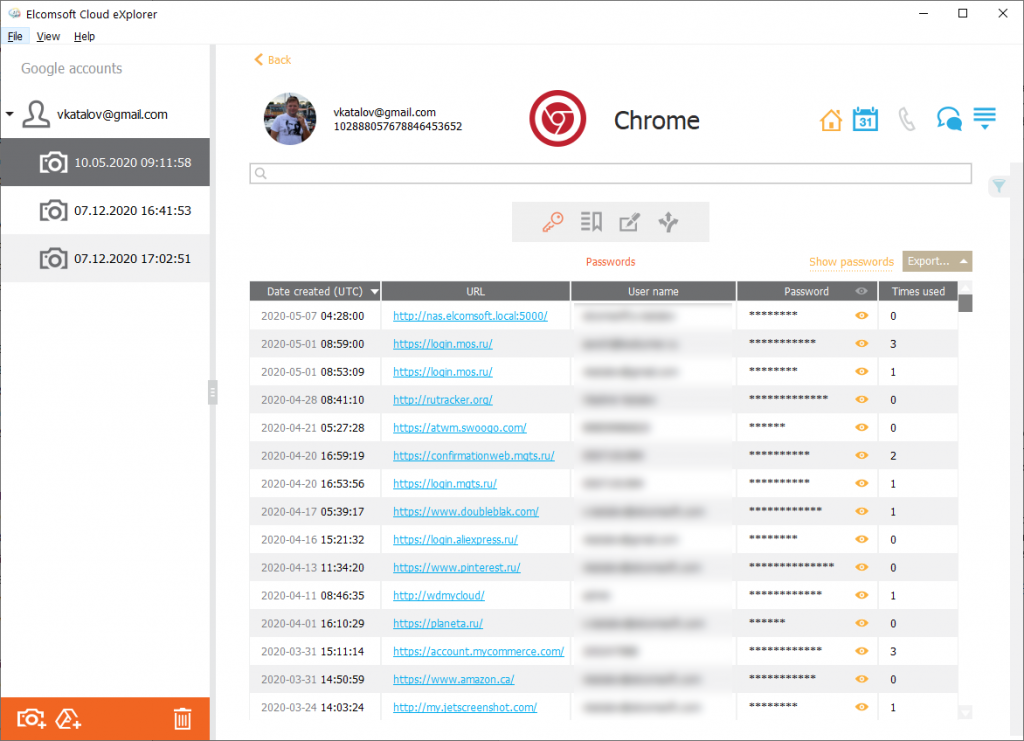 What's next?
All of the tools mentioned above not only allow decrypting the passwords stored in Web browsers but export them into 'wordlists' (or 'dictionaries'). You will have to do some homework: frequency sorting, deduplication etc., and remove passwords that are obviously incorrect (sometimes 'false matches' are returned such as base64-wrapped binary data). Then convert the result into Unicode and use as the dictionary in Elcomsoft Distributed Password Recovery.