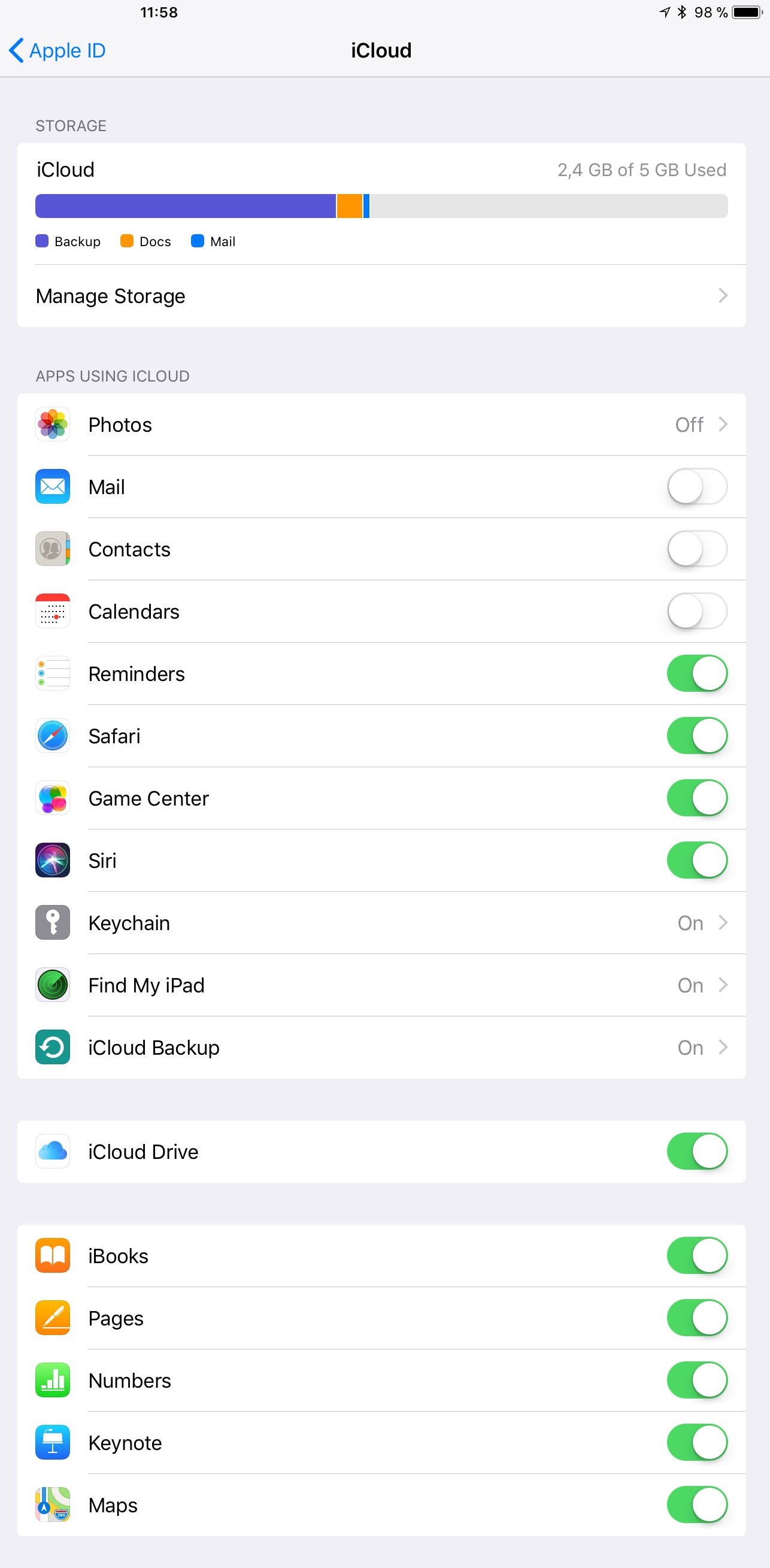 Apple has a wonderfully integrated ecosystem. Apple computers, tablets and phones conveniently synchronize information such as passwords, Web browsing history, contacts and call logs across all of the user's devices. This synchronization mechanism uses iCloud to sync and store information. The syncing mechanism works independently from iOS system backups that are also stored in iCloud (or iCloud Drive). As opposed to daily iCloud backups, synchronized data is updated and propagated across devices in almost real time. Extracting this information can be invaluable for investigations as it provides access to the most up to date information about the user, their activities and whereabouts.
What exactly is synced through iCloud? The screen shot above lists all options available in iOS 11. As you can see, the following types of data are (or can be) synced across Apple devices:
Photos (iCloud Photo Library)
Mail (iCloud mail only)
Contacts, Calendars and Reminders
Safari (browsing history, bookmarks and tabs open on other devices)
Game Center (profiles, achievements and game progress)
Siri (requests, settings)
Keychain (iCloud Keychain stores passwords and forms from Safari, iOS system, Apple and some third-party apps, but not Google Chrome)
iCloud backups (up to last 3 copies per device, created daily while charging)
iBooks, Pages, Numbers and Keynote (e-books, PDF files, documents)
Maps (user's search history, routes and places)
Wallet
Wi-Fi
Cloud acquisition has been available for several years. iPhones and iPads running recent versions of iOS can store snapshots of their data in the cloud. Cloud backups are created automatically on a daily basis provided that the device is charging while connected to a known Wi-Fi network. While iCloud backups are great for investigations, there is one thing that might be missing, and that's up-to-date information about user activities that occurred after the moment the backup was created. In this article, we'll discuss an alternative cloud acquisition option available for iOS devices and compare it to the more traditional acquisition of iCloud backups.