With all the trouble of jailbreaking iOS 8 devices and the lack of support for 64-bit hardware, does iOS physical acquisition still present meaningful benefits to the investigator? Is it still worth your time and effort attempting to acquire that iPhone via a Lightning cord?
Granted, jailbroken iOS devices are rare as hen's teeth. You are very unlikely to see one in the wild. However, we strongly believe that physical acquisition still plays an important role in the lab, and here are the reasons why.
Apple's current privacy policy explicitly denies government information requests if the device in question is running iOS 8. This means that handing over the device to Apple will no longer result in receiving its full image if the device is running iOS 8.x (source: https://www.apple.com/privacy/government-information-requests/)
In many countries (Mexico, Brazil, Russia, East Europe etc.) Apple sells more 32-bit phones than 64-bit ones. Old iPhones traded in the US are refurbished and sold to consumers in other countries (BrightStar coordinates these operations for Apple in the US). As an example, new and refurbished iPhone 4S and 5 units accounted for some 46% of all iPhones sold through retail channels in Russia in Q1 2015.
Physical extraction returns significantly more information compared to any other acquisition method including logical or over-the-air acquisition. In particular, we're talking about downloaded mail and full application data including logs and cache files (especially those related to Internet activities). A lot of this information never makes it into backups.
Full keychain extraction is only available with physical acquisition. Physical is the only way to fully decrypting the keychain including those records encrypted with device-specific keys. Those keychain items can be extracted from a backup file, but cannot be decrypted without a device-specific key. In addition, the keychain often contains the user's Apple ID password.
With physical acquisition, you can extract the 'securityd' (0x835) from the device. This key can be used to completely decrypt all keychain items from iCloud backups.
Physical acquisition produces a standard DMG disk image with HFS+ file system. You can mount the image into the system and use a wider range of mobile forensic tools to analyze compared to iTunes or iCloud backup files.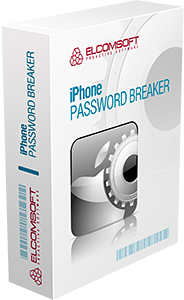 Today we are pleased to unveil the first public beta of our new product, Elcomsoft iPhone Password Breaker, a tool designed to address password recovery of password-protected iPhone and iPod Touch backups made with iTunes.
In case you do not know, iTunes routinely makes backups of iPhones and iPods being synced to it. Such backups contain a plethora of information, essentially all user-generated data from the device in question. Contacts, calendar entries, call history, SMS, photos, emails, application data, notes and probably much more. Not surprisingly, such information manifests significant value for investigators. To make their job easier there are tools to read information out of iTunes backups, one example of such tool being Oxygen Forensic Suite (http://www.oxygen-forensic.com/). Such tools can not deal with encrypted backups, though.