UPDATE June 2, 2018: USB Restricted Mode did not make it into iOS 11.4. However, in iOS 11.4.1 Beta USB Restricted Mode Has Arrived
A new iOS update is about to roll out in the next few weeks or even days. Reading Apple documentation and researching developer betas, we discovered a major new security feature that is about to be released with iOS 11.4. The update will disable the Lightning port after 7 days since the device has been last unlocked. What is the meaning of this security measure, what reasons are behind, and what can be done about it? Let's have a closer look.
USB Restricted Mode in iOS 11.4
In the iOS 11.4 Beta, Apple introduced a new called USB Restricted Mode. In fact, the feature made its first appearance in the iOS 11.3 Beta, but was later removed from the final release. This is how it works:
"To improve security, for a locked iOS device to communicate with USB accessories you must connect an accessory via lightning connector to the device while unlocked – or enter your device passcode while connected – at least once a week."
The functionality of USB Restricted Mode is actually very simple. Once the iPhone or iPad is updated to the latest version of iOS supporting the feature, the device will disable the USB data connection over the Lightning port one week after the device has been last unlocked. (more…)
With all the trouble of jailbreaking iOS 8 devices and the lack of support for 64-bit hardware, does iOS physical acquisition still present meaningful benefits to the investigator? Is it still worth your time and effort attempting to acquire that iPhone via a Lightning cord?
Granted, jailbroken iOS devices are rare as hen's teeth. You are very unlikely to see one in the wild. However, we strongly believe that physical acquisition still plays an important role in the lab, and here are the reasons why.
Apple's current privacy policy explicitly denies government information requests if the device in question is running iOS 8. This means that handing over the device to Apple will no longer result in receiving its full image if the device is running iOS 8.x (source: https://www.apple.com/privacy/government-information-requests/)
In many countries (Mexico, Brazil, Russia, East Europe etc.) Apple sells more 32-bit phones than 64-bit ones. Old iPhones traded in the US are refurbished and sold to consumers in other countries (BrightStar coordinates these operations for Apple in the US). As an example, new and refurbished iPhone 4S and 5 units accounted for some 46% of all iPhones sold through retail channels in Russia in Q1 2015.
Physical extraction returns significantly more information compared to any other acquisition method including logical or over-the-air acquisition. In particular, we're talking about downloaded mail and full application data including logs and cache files (especially those related to Internet activities). A lot of this information never makes it into backups.
Full keychain extraction is only available with physical acquisition. Physical is the only way to fully decrypting the keychain including those records encrypted with device-specific keys. Those keychain items can be extracted from a backup file, but cannot be decrypted without a device-specific key. In addition, the keychain often contains the user's Apple ID password.
With physical acquisition, you can extract the 'securityd' (0x835) from the device. This key can be used to completely decrypt all keychain items from iCloud backups.
Physical acquisition produces a standard DMG disk image with HFS+ file system. You can mount the image into the system and use a wider range of mobile forensic tools to analyze compared to iTunes or iCloud backup files.
Last week we have released our new product, EPPB, out of beta. We have fixed some bugs, polished GPU acceleration support, added support for Tableau TACC1441 hardware accelerator, making this program the world's first program capable of utilizing computing power of GPUs both from ATI and NVIDIA as well as dedicated hardware accelerators aimed primarily on computer forensics specialists. We have also included ability to run brute-force attacks and not only wordlist-based attacks. Latter were improved with ability to enable/disable individual types of password mutations and set customized level to any of them.
The last, but not the least, we have found that EPPB can handle encrypted backups from Apple's newest tablet, iPad (thanks to Apple for using the same underlying technologies for iPhone, iPod Touch and iPad).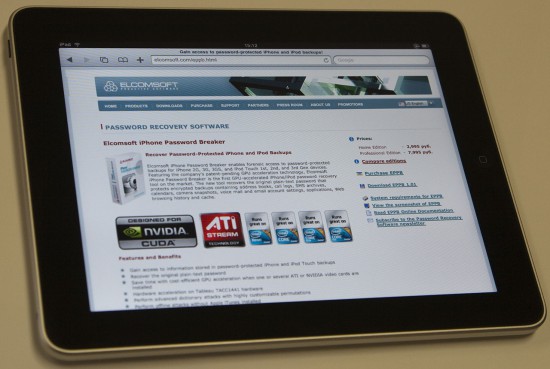 P.S. If anyone's interested, we think that iPad is really cool gadget. It's not a substitute for a laptop, but it's great for catching on emails, surfing web, watching photos or videos or movies and for reading books. And multitouch on 10'' screen is awesome :).
P.P.S. Yes, this blog post was originally created on iPad.