In the world of mobile forensics, physical acquisition is still the way to go. Providing significantly more information compared to logical extraction, physical acquisition can return sandboxed app data (even for apps that disabled backups), downloaded mail, Web browser cache, chat histories, comprehensive location history, system logs and much more.
In order to extract all of that from an i-device, you'll need the extraction tool (iOS Forensic Toolkit) and a working jailbreak. With Apple constantly tightening security of its mobile ecosystem, jailbreaking becomes increasingly more difficult. Without a bug hunter at Google's Project Zero, who released the "tfp0" proof-of-concept iOS exploit, making a working iOS 11 jailbreak would take the community much longer, or would not be possible.
The vulnerability exploited in tfp0 was present in all versions of iOS 10 on all 32-bit and 64-bit devices. It was also present in early versions of iOS 11. The last vulnerable version was iOS 11.2.1. Based on the tfp0 exploit, various teams have released their own versions of jailbreaks.
iOS is a locked down mobile operating system that does not allow its apps to directly access files in the file system. Unlike every other major mobile OS, iOS does not have a "shared" area in the file system to allow apps keep and share files with other apps. Yet, individual iOS apps are allowed to let the user access their files by using the file sharing mechanism.
While uploading or downloading shared files from an Android or Windows 10 smartphone occurs over a standard MTP connection established over a standard USB cable, you'll need several hundred megabytes worth of proprietary Apple software (and a proprietary Lightning cable) to transfer files between iOS apps and the computer. But do you really?
While there's nothing we can do about a Lightning cable, we can at least get rid of iTunes middleware for extracting files exposed by iOS apps. We'll show you how this works with iOS Forensic Toolkit 3.0.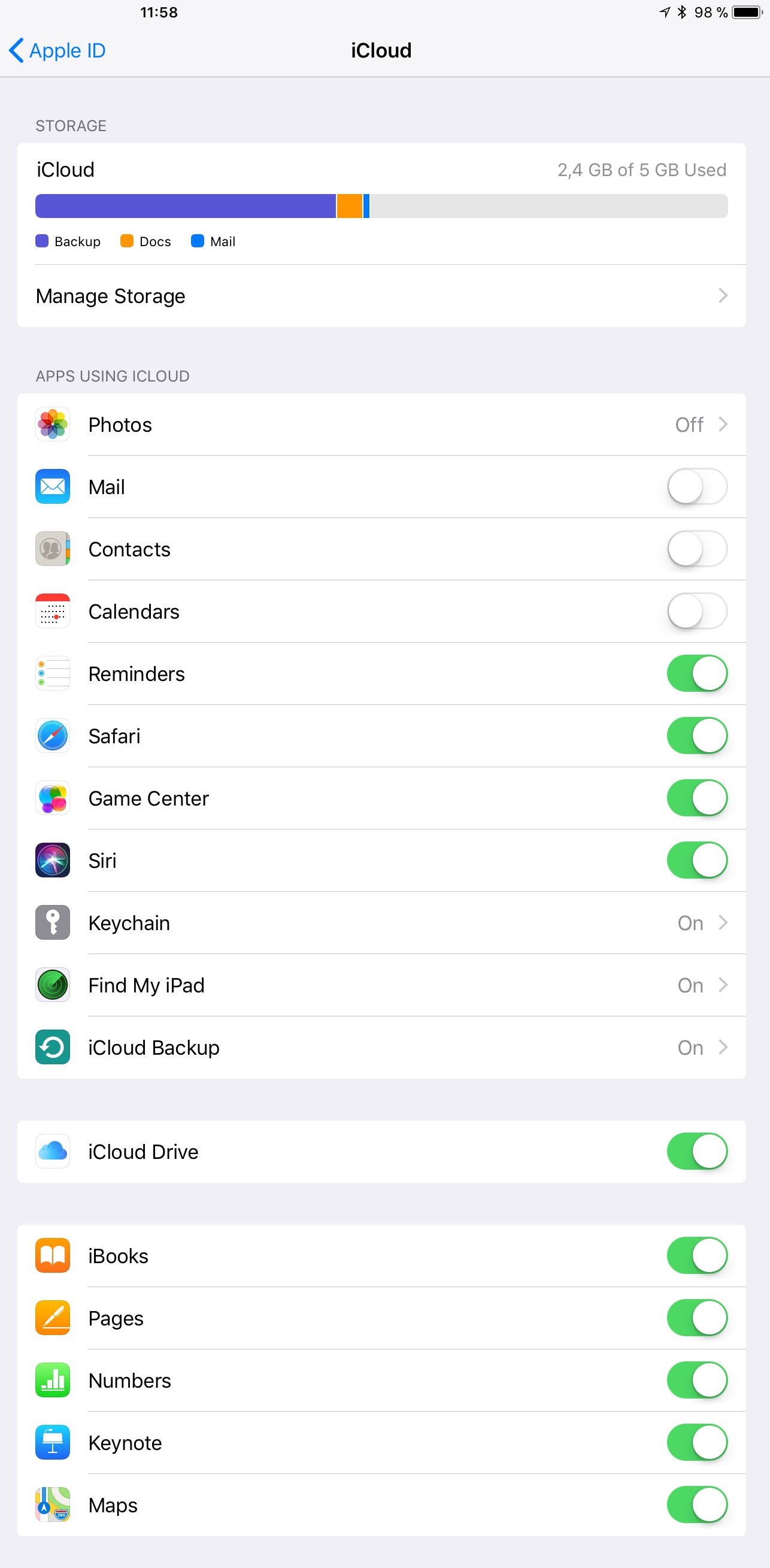 Apple has a wonderfully integrated ecosystem. Apple computers, tablets and phones conveniently synchronize information such as passwords, Web browsing history, contacts and call logs across all of the user's devices. This synchronization mechanism uses iCloud to sync and store information. The syncing mechanism works independently from iOS system backups that are also stored in iCloud (or iCloud Drive). As opposed to daily iCloud backups, synchronized data is updated and propagated across devices in almost real time. Extracting this information can be invaluable for investigations as it provides access to the most up to date information about the user, their activities and whereabouts.
What exactly is synced through iCloud? The screen shot above lists all options available in iOS 11. As you can see, the following types of data are (or can be) synced across Apple devices:
Photos (iCloud Photo Library)
Mail (iCloud mail only)
Contacts, Calendars and Reminders
Safari (browsing history, bookmarks and tabs open on other devices)
Game Center (profiles, achievements and game progress)
Siri (requests, settings)
Keychain (iCloud Keychain stores passwords and forms from Safari, iOS system, Apple and some third-party apps, but not Google Chrome)
iCloud backups (up to last 3 copies per device, created daily while charging)
iBooks, Pages, Numbers and Keynote (e-books, PDF files, documents)
Maps (user's search history, routes and places)
Wallet
Wi-Fi